#TeamAldi are looking for graduates to join our Graduate Area Manager programme, with roles available in our eleven regions.
With roots dating back to 1913, Aldi came to the UK in 1990 and are now one of the UK's fastest growing supermarkets and most successful retailers. Aldi want to continue offering their customers, colleagues and suppliers the stability that retail has to offer. Voted the fifth best graduate employer in the UK by The Times Top 100, the Aldi Graduate Programme offers so much more than a challenge – you can make a real difference.
Graduates join our business through the Area Manager Programme, which is an excellent foundation for success. It gives you a greater understanding of the challenges that our stores face and a wider lens to help you make the very best business decisions later on in your Aldi career. You'll also receive incredible support throughout your training, with a dedicated mentor and regular one-to-one sessions with some really talented colleagues
We've achieved our success through sheer hard work and determination, and you'll get a taste of that from day one. You'll be rolling up your sleeves, stacking shelves, ordering stock, managing the team and taking on a lot of real responsibility. By week 15, you'll have the keys to your own store; by the end of the year, you'll be managing your own £multi-million business
Our benefits package includes a salary of £44,000 rising to £77,870 after four years, a fully expensed BMW, and excellent work-life balance and plenty of training and support.
Area managers will need to have a 2:1 at undergraduate level, 96 UCAS points (240 points if using the old tariff) and a full UK driving licence. Career Changer candidates will also need to have some management experience within a fast paced environment, as well as a history of leading and developing people.
Online applications include a psychometric test and you'll create a short video to convince Aldi you're a strong and charismatic leader. Group assessment follows, which involves team-building and a chance to demonstrate your Aldi business knowledge. You'll then have a fina face-to face interview with the regional managing director. Aldi recruit all year round but it's best to apply as soon as you can.
All-year-round recruitment, but places do fill quickly.
Typically recruits
Graduate Area Manager
Business
Case study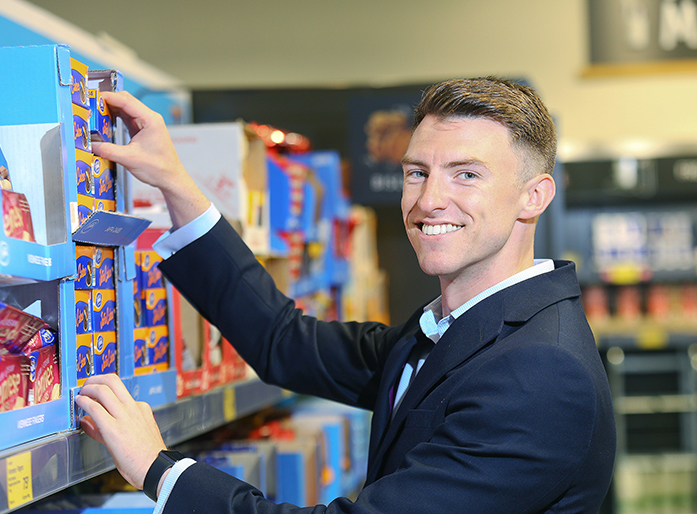 Learner Case Study - Callum Day
"You're taught to look after people's wellbeing from day one. You have a lot of responsibility when you're an Area Manager. I'm trusted to run several Aldi stores, manage performance and have senior meetings with the Operations Director. But one of my biggest responsibilities is looking after the people that work in the stores. That's one of the first things you learn at Aldi – to focus on everyone's wellbeing. So I make sure that people are supported, have what they need and are reaching their goals. I'm an ambitious person, so I love helping everyone to thrive. It's so motivating to know that you're not just looking after the business – you're looking after your team."