There is always a better way to do something. That's why there's nowhere better to begin your career journey than at Thales. Together we are driven by an endless curiosity to change the world around us. Be it in Aerospace, Space, Defence and Digital security wherever there's a problem, there is a solution waiting to be found. Which is why every day you spend here will be an opportunity to discover; to try, test, probe, explore, create and achieve. Everything you do will enable you to push the realms of what's possible. To build on what you know. To discover what you don't.
Whether you're here to learn more about why STEM matters, or join us as a school leaver, undergraduate or graduate, we're confident you'll enjoy getting to know more about Early Careers at Thales and the opportunities available.
Our Apprenticeships/Grad schemes
Whether you're a student or recent graduate, we want you to start your career with Thales, keep growing with us and ultimately build your story with us.
The huge variety of industries and technologies our business operates means that we can offer more opportunities than you can imagine. Whatever your interests or long term aspirations we've got you covered.
Our Early Careers programs reflect the global nature of our business, are country specific, designed to work in harmony with the local education systems and most importantly, provide you with a great experience.
Business Graduates
How we do business is every bit as important as how we engineer our solutions. Our Business programmes will give you the insight your talent needs to develop and deliver. Our schemes include: Strategy and Marketing, Sales and Business Development, Legal, Procurement, Bid and Project Management. Get to know our operation in forensic detail. Together we'll be a force to be reckoned with.
Engineering Graduates
This is a programme for the next generation of engineering specialists and leaders who'll shape the future of engineering at Thales in the UK. It's rotational, so you'll be moving around the country and across different business units and engineering disciplines over the course of 4 years. But we'll support you every step of the way, because it's really important that you learn and see as much of our diverse business as possible during your training. It's what will set you up for success in the later stages of your development journey.
Apprenticeships
If you have an insatiable curiosity to ask why, how come and what if? our Apprenticeships are the solution. These are open to school and college leavers of any age and offer the chance to earn while you learn as you'll be working towards an accredited qualification. Together we can explore beyond your dreams
WHAT TO EXPECT WHEN APPLYING FOR AN APPRENTICESHIP AT THALES IN THE UK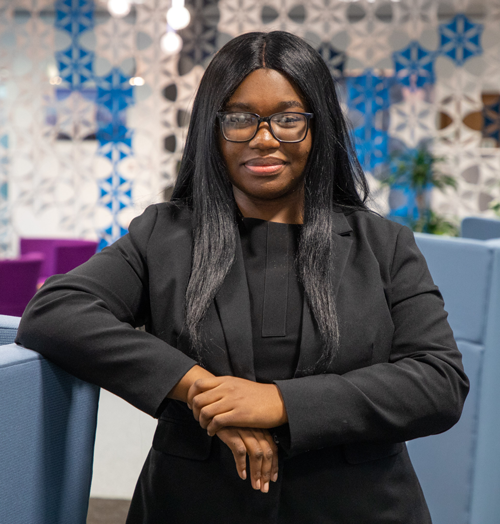 Thales in the UK understands the importance of upskilling and developing future talent so we can foster a new generation of experts. Apprenticeships enable us to shape the talent we need today so we can stay ahead of the curve.
With the UK facing a skills gap within the STEM (science, technology, engineering and mathematics) industry, Thales in the UK have established an apprenticeship programme over the last decade and our 2023 Apprenticeship roles are now available. Our Apprenticeship Programme has a range of different roles, across all regions in the UK, from a level 2 up to a level 7, including roles such as engineering, project planning, procurement and HR.
With many people looking at alternative ways to shape their career, why choose an apprenticeship with Thales in the UK?
We recently spoke to Zereh Pam, Software Engineer Degree Apprentice in the Aerospace sector about why she chose an apprenticeship, tips on how to apply to our programme, and how her apprenticeship has helped shape her career so far.
When did you join the apprenticeship programme?
I joined in 2019 when I was 18 years old and fresh out of sixth form. I knew I wanted to go in to software engineering and found an opportunity at Thales, so I applied for their Level 6 Software Apprenticeship. I didn't meet the grade requirements for it but got a place on their Level 3 Software Apprenticeship instead.
Now, I have completed my level 3 apprenticeship and I'm in my second year of university, with two more years to go!
Why did you choose an apprenticeship over alternative routes?
I chose to do an apprenticeship instead of going to university because I wanted to start my professional career early and wanted practical, hands-on experience as a software engineer. It was important to me to work for a company that gave me mobility, not just across different sites or countries, but also in my career as with Thales you can develop into a completely different role from the one you started in.
For me, this was a big selling point because if I didn't genuinely enjoy what I was doing, there were opportunities for me to change my mind which was really reassuring when I was 18.
What tips would you give to someone looking to apply for the Thales in the UK apprenticeship programme?
I have a few tips I can share based off my own experience and hopefully it helps someone who is looking to apply for one.
Learn about the company you are joining: it may seem really obvious but it is important to get an overall view of what the company do and their work ethic.
 Learn about your role: read around what people in your role do and link that to the experience or interest you already have.
Relax and be yourself: don't be afraid to shine in your own way, we are looking for real people not cookie-cutter robots!
The application process was something I had never experienced as it had three main stages to it.
First I sent off my application and waited for their response. Then they sent me an email with instructions to download a psychometric game that had multiple stages; once I had completed that, someone got in touch with me about coming onto the site for an in person assessment centre which consisted of 2 group assessments and an interview. I was nervous like all the other participants, but as time went on, I felt more relaxed and comfortable being myself and overall I enjoyed the process. I waited about a week and then found out they had offered me a place on the Software Engineer Degree apprenticeship programme.
What did you learn from going through that process?
I learnt that you should be yourself. Relax and confidently go into the room with your unique perspective. I also learnt that communication and people skills are very important, besides having that technical knowledge.
Why would you recommend an apprenticeship to someone thinking about applying for one?
I would personally recommend a degree apprenticeship as it gives you the opportunity to study on campus and enjoy the perks of being a full time employee. I also enjoy the fact that I can tailor how I approach work and manage my time. For example, when I need more time on my university work I am able to tell my line manager and communicate that to my team, without fear of being told I can't; they are very understanding and allow me spend more time on my assignments and projects for university.
My apprenticeship has helped my career immensely as I have a qualification, 3 years of work experience and made friends inside and outside the company which has helped me keep motivated and inspired!
What are your plans for the future?
My future plans are to finish my apprenticeship, work in a different country or site and become a chartered software engineer, but overall I am open to the opportunities I have and can't wait to see where my apprenticeship takes me.
More Case Studies
Back on track for Thales female bobsledding engineer | Thales Group
Thales in the UK employee receives Coronation Champions award for volunteering | Thales Group
Can you help Thales in the UK shape the future of engineering? | Thales Group
Video Case Studies
Hear from Ben, Rachel, Max, Zereh, Reece, and Kundai about their experiences at Thales.