Sky is Europe's leading media and entertainment company and we are proud to be part of the Comcast group.
Our range of programmes means everyone can find a job they love to talk about and we also offer insight events designed to give you a sneak peek at life at Sky. So, whatever your background, skills or passions, you can choose a career path that suits you.
Ready to start a career like no other? At Sky you can.
Typically recruits:
170 grads, 50 interns
Locations – Osterley, Leeds, Livingston, London, Brentwood.
Strategy
Finance
Data & Analytics
Software Developer
Mobile Developer
Developer Operations
Automated Software Tester
Change Delivery
Business Analysis
Europe's leading entertainment company
24 million customers
63 million products
32,000+ employees
6 countries
Our mission
To be Europe's leader in entertainment
Communities
Our communities include: Women at Sky, Multiculture at Sky, Body & Mind at Sky, Parents @ Sky, Armed Forces at Sky, LGBT+ at Sky, as well as Sky's Unity Programme, and ESEA at Sky.
Initiatives
Our initiatives include Sky Zero, Sky Ocean Rescue, and Sky Cares.
Commitments
Sky commits £30m to support the fight against racial injustice and invest more in diversity and inclusion (announced  June 2020)
Diversity
Sky sets ambitious 2025 target to increase its ethnic diversity and representation – 20% BAME, of which 5% are Black. This target applies to Sky's leadership team (announced January 2021).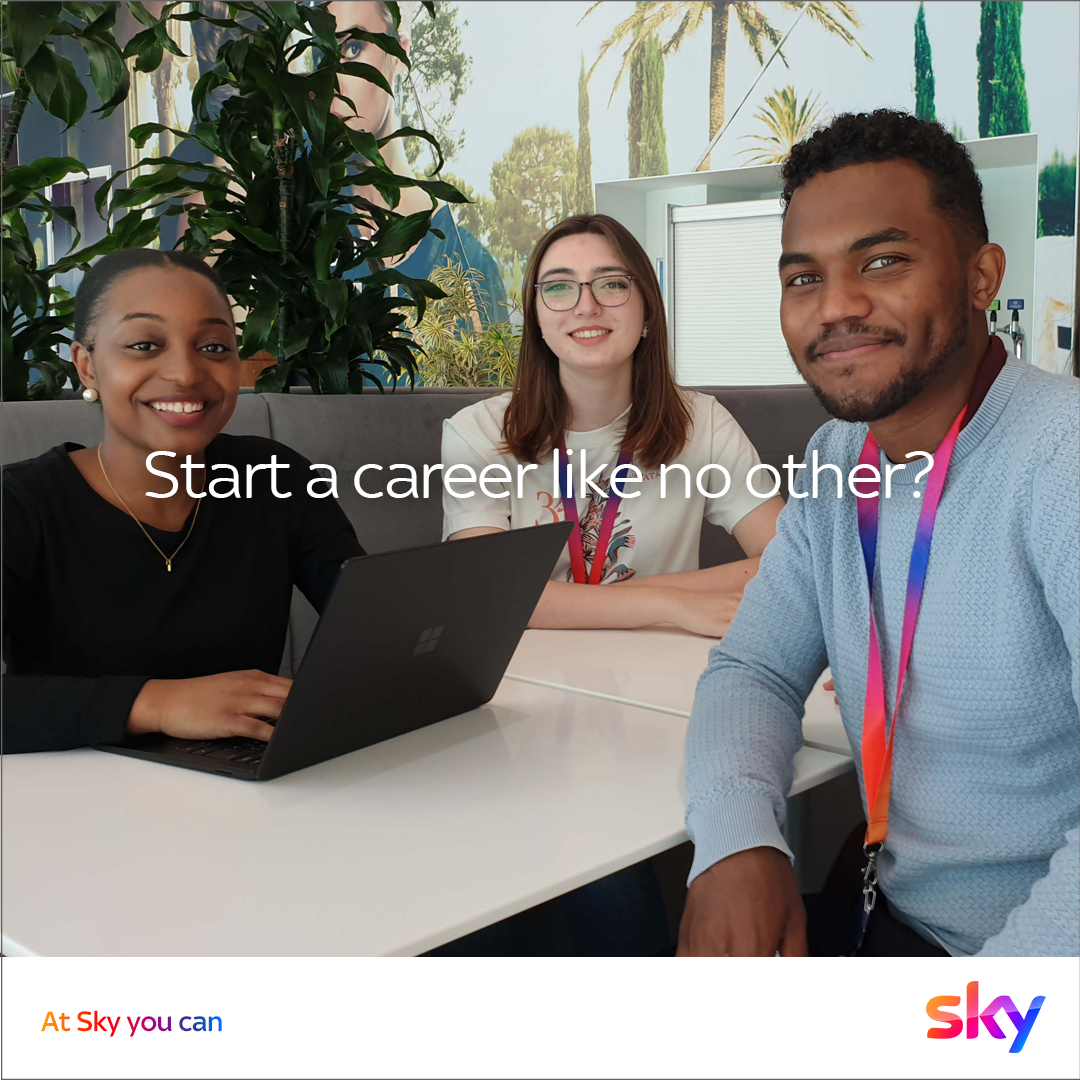 Hawah Nanyonga – Ex-Developer Operations Graduate
How did you decide you want a career in Engineering?
I tried using online courses and realised I was good at coding and enjoyed the problem-solving aspect, so I decided to explore it further as a career.
How would you encourage more women to consider Engineering as a career?
I would say if you enjoy learning something new and being creative then you should consider tech. There are a lot of resources available to get started as well as ones specifically created for women such as Coding Black Females.