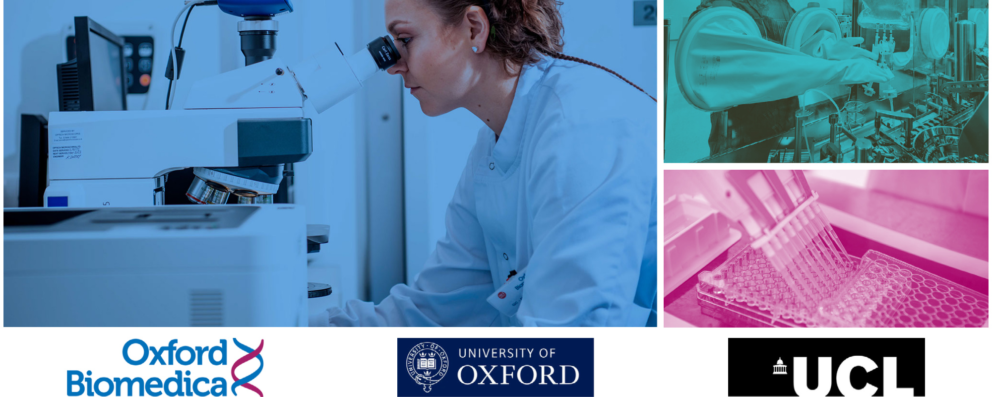 Oxford Biomedica is an innovative viral vector specialist focused on providing life-changing therapies to patients. Cell and gene therapy is the treatment of disease by the delivery of therapeutic genetic material (DNA or RNA). Utilising key viral vector delivery systems, Oxford Biomedica offers innovative solutions to cell and gene therapy biotechnology and biopharma companies for their process development, analytical and manufacturing needs.
About Our Graduate Programme
Oxford Biomedica is leading a Biotechnology and Biological Sciences Research Council (BBSRC) funded Collaborative Training Partnership (CTP) doctoral training programme called Advanced Bioscience of Viral Products (ABViP), together with our academic partners at the University of Oxford (UOXF) and University College London (UCL).   
ABViP is a comprehensive, multidisciplinary degree programme designed and led by industry. It aims to deliver the next generation of bioscience leaders who will advance research of viral products for future gene therapies and vaccines. The ABViP-CTP will train a total of 24 PhD/DPhil students, with the first cohort of students starting in 2022, to address the acute viral vector skills shortage. We are aiming to recruit 8 doctoral student projects per year, with cohorts starting in 2022 through to 2024.
Our academic partners bring complementary expertise in virology and biological sciences lentiviral (LV) and adeno-associated viral (AAV) vector bioprocessing, novel analytics and data science methodologies and viral vaccine design, development, and characterisation. The academic institutions also have extensive experience in leading high-quality doctoral training programmes.
The first cohort of students is starting in October 2022 and recruitment for the second cohort begins in November 2022. To find out more about the ABViP programme please visit:
Thomas Williams 2nd Year PhD UCL/OXB
An industrial PhD provides the opportunity to pursue your studies across both academic and industrial settings, and for your research to be guided by both academic and commercial drivers. You work cross-functionally across departments alongside your academic supervisors allowing you to build networks that are outside the traditional academic setting. Working within an industry setting also gives you the opportunity to gain experience in how a business in the biotechnology sector functions, providing highly transferable skills which are very attractive to future employers.